Say goodbye to 2023 and ring in a brand new year with fireworks, cocktails and an endless parade of rowdy celebrations. Some cities are partying harder than others. So make plans now to visit one of these hot U.S. destinations to welcome 2024 in style.
As can be expected, the biggest city in the United States has one of the most elaborate New Year's Eve celebrations in the world. Most of the attention is on Times Square for the annual Ball Drop at midnight. It's a notoriously crowded and frigid experience that's best left to those looking to cross the event off their bucket lists.
You're better off joining a party at Mango, Copacabana or another Midtown club. Otherwise, book a cruise on the Hudson River and enjoy the serenity of the water underneath the bombast of the fireworks overhead. Another fireworks display will be seen above the grass and trees of Central Park. Top restaurants will be busy, so make reservations early, especially among the collection of trendy restaurants at Hudson Yards by the river.
The Big Apple is also known for entertainment, and that's especially true on holidays. Hamilton and other Broadway shows will wrap up well before midnight, allowing plenty of time to celebrate before the countdown begins. Radio City Music Hall hosts a post-Christmas spectacular featuring the famous Rockettes early in the afternoon. Meanwhile, The Barclays Center in Brooklyn host a night of Haitian music with Konpa Kingdom. 
New Year's Eve Events in New York
Sin City always feels like a party, but things go up a notch on New Year's Eve. The world-famous Strip closes down to traffic, with the four-mile stretch of Las Vegas Boulevard open to pedestrians only. The massive block party is perfect for watching fireworks erupt from the rooftops of seven casinos.
Las Vegas is a mecca for entertainment and always draws big-name stars to headline concerts and nightclub events for end-of-the-year festivities. Top New Year's Eve shows include Bruno Mars at the Park Theater's Dolby Live, John Oliver and Seth Meyers at the Colosseum at Caesars Palace, Christina Aguilera at Voltaire at the Venetian, Kelly Clarkson at Planet Hollywood's Bakkt Theater, the Black Eyed Peas at the Venetian Theatre and perhaps biggest of all, Post Malone opening the brand-new BleauLive Theater at Fontainebleau.
New Year's Eve Events in Las Vegas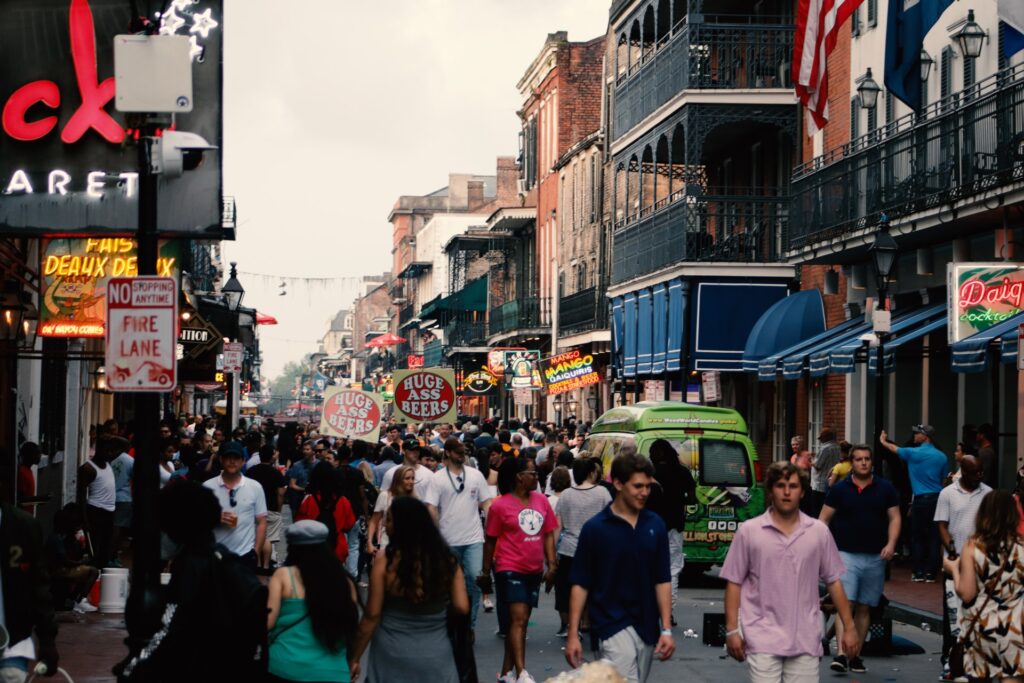 The December weather is relatively mild for New Orleans, making the city a welcome alternative to colder parts of the country for New Year's Eve. But that's not the only reason to visit the Big Easy. Bourbon Street will be packed with revelers, who can legally bring drinks outside while celebrating. Make a point to visit Jackson Square, where you can watch the Fleur-de-Lis Drop from the top of Jax Brewery or see national acts perform live during Dick Clark's New Year's Rockin' Eve broadcast. No ticket necessary to watch.
If you prefer to stay indoors, there will be hundreds of parties all over town. One of the biggest is the Big Night New Orleans Gala at the Filmore, featuring Ying Yang Twins and the Soul Rebels. Otherwise, hop on board the Natchez for a steamboat cruise underneath the fireworks on the Mississippi River.
Even if you play it by ear and simply wander the streets of the French Quarter, you can't go wrong with New Orleans for New Year's Eve. The next day, football fans will be eager to check out the Allstate Sugar Bowl at the Mercedes-Benz Superdome. 
New Year's Eve Events in New Orleans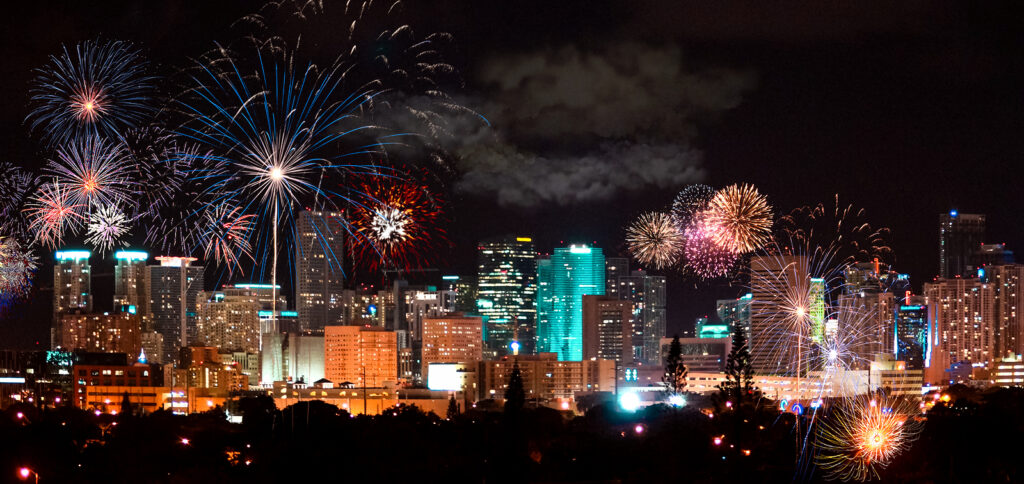 Feel the heat on New Year's Eve with the warm weather and global culture of Miami. Crowds will pack Biscayne Boulevard for the annual Orange Drop, almost like Times Square but without the frigid temperatures. However, the Dreamland electronic dance music festival, taking place over five nights on NYE weekend (Dec. 28-Jan. 1) will be the hottest ticket in Miami Beach. 
Take one of the numerous cruises that will travel the bay and coastal waters, offering the perfect view of firework celebrations around the city. Miami's notorious nightclub scene will be busy all night long, including E11even, LIV and Club Space. Looking to stay close to South Beach? The Fontainebleau hotel traditionally hosts one of the hottest parties of the year with big-name headliners.
New Year's Eve Events in Miami
Keep things cool with a New Year's Eve celebration in San Diego. The Southern California city will host holiday parties at its busiest hotels and hotspots, including Big Night NYE at the Hilton Bayfront, a beach party at the Catamaran resort and Proper NYE/NYD at Petco Park, featuring dozens of EDM stars on four stages.
Expect Onyx and other clubs in the vibrant Gaslamp district to be especially lively. Meanwhile, rooftop bars like the Pool House and Altitude Sky Lounge will have incredible views of the city to check out the action. Just a few blocks away, Waterfront Park, Seaport Village and other spots along the bay will have perfect sightlines for watching midnight fireworks. For a true luxury experience, book a yacht tour with champagne and hors d'oeuvres. 
New Year's Eve Events in San Diego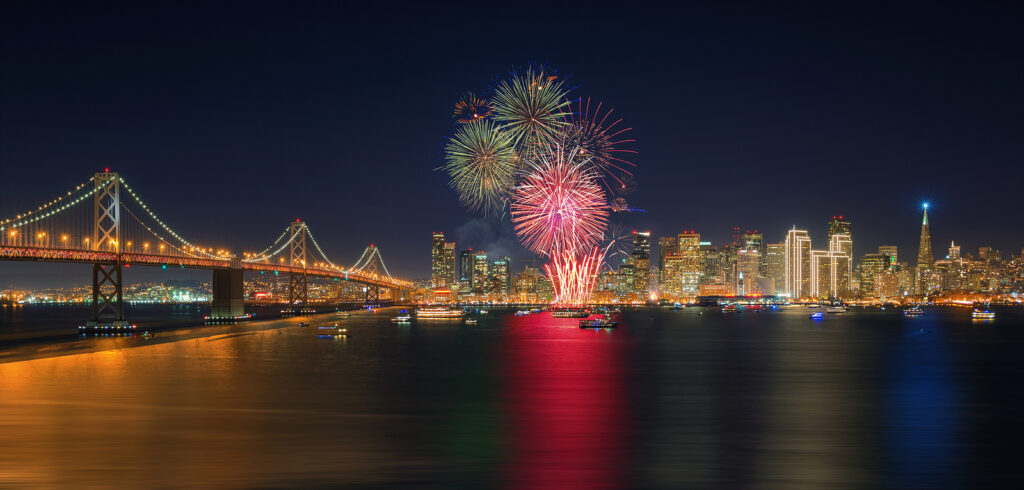 San Francisco is home to one of the largest New Year's Eve celebrations in the country as more than 200,000 spectators gather to watch fireworks from the waterfront. For a more comfortable environment, make a reservation at a rooftop bar with unobstructed views such as Dirty Habit or Charmaine's. Hotels like the Palace and Westin St. Francis are known for hosting some of the biggest parties in the city.
For something completely different, celebrate on an aircraft carrier at the U.S.S. Hornet Sea, Air & Space Museum in Alameda. However, the historic multi-level Regency Ballroom takes pride in hosting MOANY or the "Mother of All New Year's" parties. Detour to wine country where you can see Hawaii's Anuhea perform at the Blue Note in Napa. EDM fans will want to see Kaskade as part of the three-day Fresh Start festival at the Midway or Diplo at the Festival Pavilion.   
New Year's Eve Events in San Francisco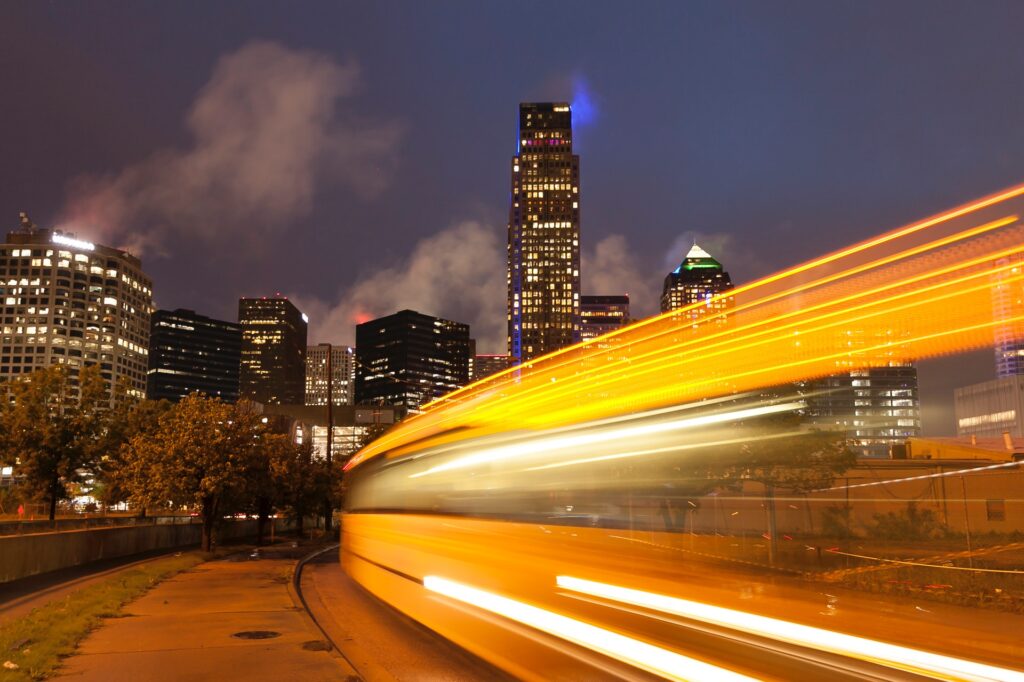 Celebrate a Texas-sized New Year's Eve in Dallas. Find the right spot in Ferris Plaza, Lubben Plaza Park or another part of downtown for watching the panoramic fireworks display at Reunion Tower. City Hall Plaza is one of the busiest spots with food trucks and live music.
Otherwise, stay indoors at one of the hottest parties around town. Champagne Life: Royalty Masquerade & Casino is a Roaring '20s-inspired bash at Aloft Love Field. Dress your best for the Dallas NYE Ball at Crowne Plaza or the two-night NYE Decadence Ball at the Crown Plaza. Lights All Night is a two-night rave-style party with Skrillex and more than 20 other DJs pumping electronic dance music at Dallas Market Hall Dec. 30-31. If you just want to see some football, the Cottonbowl is December 29 at AT&T Stadium. 
New Year's Eve Events in Dallas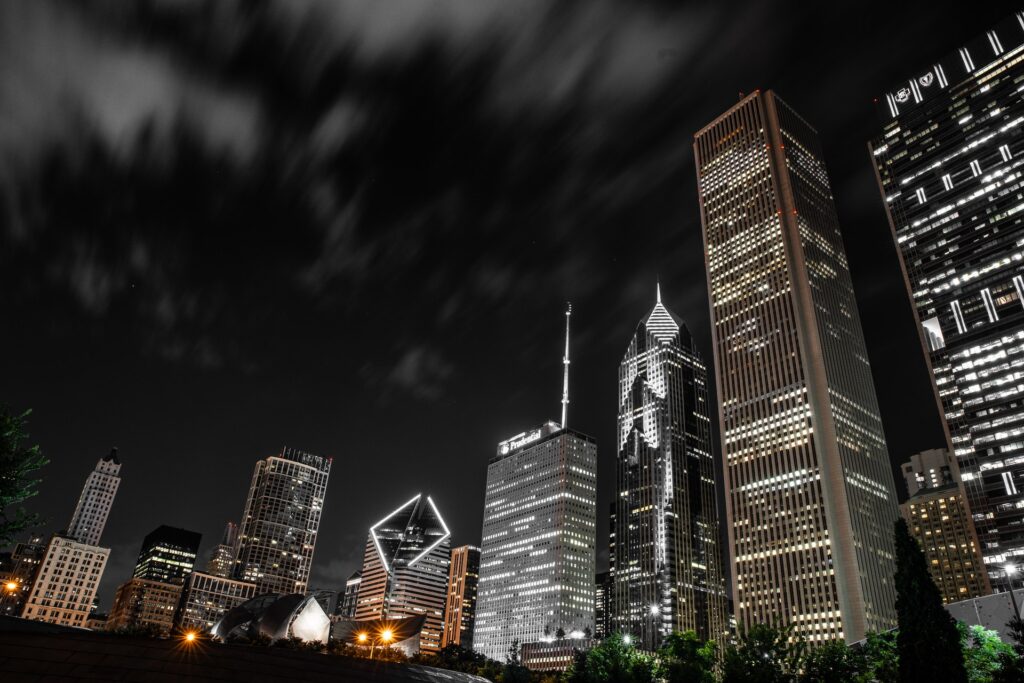 Like New York, Chicago is freezing during New Year's Eve, but the cold weather doesn't stop the Windy City from celebrating in style. Predictably, most of the in-demand events are indoors. The Drake, JW Marriot, W and Congress Plaza are among the hotels hosting spectacular celebrations. Gatsby's Penthouse is a stylish throwback bash on the 33rd floor of the W hotel in the Gold Coast. If you dare to brave the outdoors, there's a "Crawl 'til the Ball Falls" beer drinking crawl from 6pm to 2 a.m. 
 Blue Man Group hosts a special late-night performance at the Briar Street Theatre with a midnight countdown, party hats and a sing-along rendition of Auld Lang Syne. Check out Umphrey's McGee at the Riveria Theatre for music or the "Straight Jokes! No Chaser" Comedy Tour at the United Center, featuring Don DC Curry, D.L. Hughley, Cedric the Entertainer, Earthquake and special guest Damon Williams. Comedian and ventriloquist Jeff Dunham plays the Allstate Arena. 
New Year's Eve Events in Chicago
Arizona's largest metropolitan area knows how to party on New Year's Eve. Check out the music of the late '70s and early '80s with Yachtly Crew at Tempe's Marquee Theatre, the coal stylings of Straight No Chaser at Mesa's Ikeda Theater, Broadway Showstoppers at the Chandler Center for the Arts or a special performance by the Phoenix Symphony. The Decadence Arizona music festival brings EDM stars like ILLENIUM to the Phoenix Raceway for a two-night dance party December 30-31. 
Numerous events also surround the annual Fiesta Bowl at State Farm Stadium on January 1. If you're down with driving outside city limits, Prescott has an illuminated cowboy Boot Drop at midnight on Whiskey Row while even farther north, Flagstaff has its famous Pinecone Drop. 
New Year's Eve Events in Phoenix
Austin has a thriving nightlife scene, but the city's biggest New Year's Eve bash ("Austin's New Year") is an all-day family-friendly celebration on Auditorium Shores. There's plenty of food and entertainment, but no alcohol. Other vantage points include the overlook near Pennybacker Bridge, Zilker Metropolitan Park and Pfluger Pedestrian Bridge.
Live music can be enjoyed throughout the city all night long, especially at Austin City Limits Live or the Paramount Theater. Austin's famous bar and BBQ scene will host events throughout the evening but for something more refined, try the Gatsby's House party at the Hilton. It includes an open bar, DJs and dance areas. 
New Year's Eve Events in Austin
Los Angeles has no shortage of New Year's Eve parties throughout its sprawling metropolitan area. Check out the annual N.Y.E.L.A. celebration at downtown's Grand Park where a fireworks show takes place over City Hall with performances and food trucks. If you prefer waterside scenery, there's nothing better than Burton Chace Park at Marina del Rey, which actually holds two fireworks shows: one at midnight and another earlier at 9 p.m. for families who don't want to stay out late.
Theme parks will also be welcoming 2023 in style. Disneyland in Anaheim throws a colorful NYE bash with a 16-minute fireworks spectacular and a World of Color holiday show on the water at California Adventure. The EVE event at Universal Studios is like three-parties-in-one, each with their own fireworks show.
For those in Long Beach, a fireworks display erupts over the Queen Mary, the historic sister ship to the Titanic, now permanently docked as a hotel. Beer lovers will enjoy an 80s New Year's Eve bash at the Old World Biergarten in Huntington Beach. If you want to rock, check out a performance by hair metal favorites L.A. Guns at the iconic Whiskey A Go Go. Prefer sports? Stick around for the Rose Bowl game and parade on January 1 in Pasadena.