As a thriving city known for its wildly active music scene, as well as being the home for many hip-hop artists, Atlanta has an extensive nightlife.  From casual dive bars to high-end celebrity hotspots, whatever your nightlife style is, Atlanta has a club that can accommodate you.  However, the sheer number of options can make it hard to decide where to go on a night out, so we picked the best nightclubs in Atlanta for every style of clubbing.
2023 Atlanta Club Events Schedule
Blind Willie's Blues Club
Best blues club
Blues fans will love Blind Willie's.  Known as the oldest blues club in Atlanta, it has maintained a solid reputation for great music, great drinks, and great vibes since 1986.  Service is never slow, drinks are never watered down, and those who visit more than once are quick to learn how easy it is to become a part of the Blind Willie family.  Anyone looking for a fun, laidback night will enjoy listening to the live band as they meet some new friends.
Red Phone Booth
Best speakeasy
For those seeking a more decadent vibe, the Prohibition-inspired Red Phone Booth is the place to go.  The craft cocktails elevate a night out, building excellent memories through unique flavor combinations complemented by a wide variety of the best cigars.  The club is all about the overall experience, and has fine-tuned every single detail to ensure that guests have only the most luxurious night.  For added fun, dress up and embrace the '20s vibe.  Before going, make sure you get the code – no password, no speakeasy!
JoJo's Beloved Cocktail Lounge
Best vintage club
The '70s never left JoJo's.  The club can be a bit hard to find, as it's tucked away in Colony Square, but it's well worth the effort.  The slightly ostentatious decor highlights the love for velvet, neon, and gold that marks disco aesthetic, and the focus on popular '70s musicians completes the retro ambiance.    The artisan cocktails are delicious, and if you can't decide what you want, the servers are very knowledgeable and can provide excellent recommendations.  The only downside is that JoJo's is always busy – make a reservation in advance or face a lengthy wait.
Aisle 5
Best hipster spot
In the heart of Little 5 Points, Aisle 5 is the redone and upgraded space previously occupied by The Five Spot.  If you love indie rock, you'll love the ever-changing roster of live acts – and since the venue is small, you'll never have a bad view.  The drinks flow easily, and options are limited to basic liquors and a wide variety of craft beers, all of which are offered for good prices.  As a final bonus, because of the club's prime location, you have access to any number of late-night spots – if you get hungry, dart around the corner to The Vortex for a fantastic burger to sop up the alcohol.
MJQ Concourse
Best dance club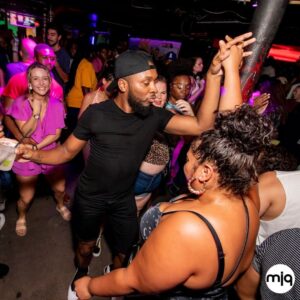 For a classic danceclub experience, MJQ Concourse is the place to go.  Completely underground, it can be hard to find on your first visit, but once you're in, the fun is non-stop.  Both locals and visitors enjoy dancing the night away to some of the best DJs and hottest hip-hop songs.  Whether you want to dress up or dress down, celebrate a special event or just a Tuesday night, MJQ focuses on an amazing experience and the staff will do everything possible to make sure you have one.  Bring cash – the club doesn't accept credit cards.
Eddie's Attic
Best live music club
If you want to see music's hottest new acts before they become popular, you must go to Eddie's.  In the past, this small bar has kicked off the careers of big names such as Jennifer Nettles, Shawn Mullins, and John Mayer, to name a few.  The space is carefully curated to maximize the sound of the performers so that their songs – generally played acoustically – don't distort or overwhelm the crowd.  If you have the chance, it's worth going out of your way to visit on an open mic night – order a beer, relax, and listen to upcoming superstars.  Eddie's is one of the best nightclubs in Atlanta for early adopters and music lovers.
Koo Koo Room
Best local spot
Lesser-known than other clubs, the Koo Koo Room is a local favorite due to its laidback atmosphere, excellent music selection, and affordable drinks.  Nearly every Atlanta native has partied here at one point or another, and any night you visit, you will find people from all walks of life having an excellent time.  Since the alcohol is affordable and free-flowing, have a taco at Tin Lizzy's around the corner beforehand.  And don't wait for the weekend – the Koo Koo Room is popular every night.
Sanctuary
Best Latin nightclub
Get your bachata on at Buckhead's Sanctuary Nightclub – there's no better place in the Atlanta metro area to dance to Latin music!  Those who don't know how to salsa can arrive a bit early for the free dance lessons every night and then hit the floor when the bulk of the crowd comes in around 11 p.m.  Be forewarned – drinks are strong at Sanctuary, and if you want to continue dancing, take it slow.  The upper bar offers hookah if you want to sit for a bit and give your feet a break, and there is nearly always a taco truck outside for hungry guests.  While parking is available, plan on taking an Uber.
The Basement
Best dive
Sometimes, you want a fun, relaxed dive bar, and there is no better Atlanta option than long-time mainstay, The Basement.  You will be out on the dance floor for every song since the wide variety of music caters to every possible taste, from '80s hair bands to '90s hip-hop to Millenium pop.  Plan on going a little earlier than usual, around 10 p.m. (9 p.m. on theme nights) to avoid higher cover charges and long lines – you can relax at the bar with a drink while the DJ warms up – and always dress for comfort.
Tongue and Groove
Best bottle service
Are you celebrating a special night?  Splurge with top-notch bottle service at the Tongue and Groove in Buckhead.  The bartenders are exceptionally skilled in making drinks fast and delicious, the music is always hot, and the club is so well-run that everything flows seamlessly.  Be careful to dress your best – Tongue and Groove is pretty strict about who they let in, but it's worth it.  It's a Vegas-level experience right in ATL and they certainly rank as one of the best nightclubs in Atlanta.